Full factorial designs
A full factorial design is a design in which researchers measure responses at all combinations of the factor levels. Minitab offers two types of full factorial designs:
2-level full factorial designs that contain only 2-level factors.
general full factorial designs that contain factors with more than two levels.
The number of runs necessary for a 2-level full factorial design is 2k where k is the number of factors. As the number of factors in a 2-level factorial design increases, the number of runs necessary to do a full factorial design increases quickly. For example, a 2-level full factorial design with 6 factors requires 64 runs; a design with 9 factors requires 512 runs. A half-fraction, fractional factorial design would require only half of those runs.
Fractional factorial designs
A fractional design is a design in which experimenters conduct only a selected subset or "fraction" of the runs in the full factorial design. Fractional factorial designs are a good choice when resources are limited or the number of factors in the design is large because they use fewer runs than the full factorial designs.
A fractional factorial design uses a subset of a full factorial design, so some of the main effects and 2-way interactions are confounded and cannot be separated from the effects of other higher-order interactions. Usually experimenters are willing to assume the higher-order effects are negligible in order to achieve information about main effects and low-order interactions with fewer runs.
What is a 2-level full factorial design?
In a 2-level full factorial design, each experimental factor has only two levels. The experimental runs include all combinations of these factor levels. Although 2-level factorial designs are unable to explore fully a wide region in the factor space, they provide useful information for relatively few runs per factor. Because 2-level factorial designs can identify major trends, you can use them to provide direction for additional experimentation. For example, when you need to explore a region where you believe optimal settings may exist, you can augment a factorial design to form a central composite design.
Comparison
The following diagrams show a full factorial design versus a ½ fractional factorial design.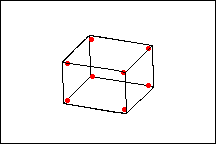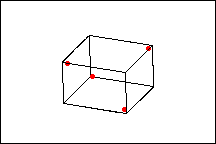 The full factorial design contains twice as many design points as the ½ fraction design. The response is only measured at four of the possible eight corner points of the factorial portion of the design. However, with this design, the main effects will be confounded with the 2-way interactions.