The average outgoing quality (AOQ) plot depicts the relationship between the quality of the incoming material and the quality of the outgoing material, assuming that rejected lots will be 100% inspected and that a rectifying inspection of defective items will be performed. In a rectifying inspection, defective items are either removed, reworked, or replaced.
When the AOQ curve is plotted, the outgoing quality levels are obvious.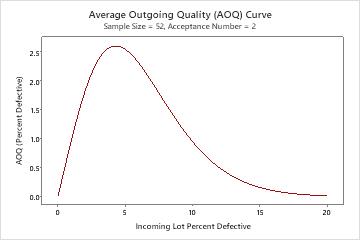 In addition to the AOQ curve, you should also examine the OC curves and the ATI curves when rectifying inspection is required.