Label pie slices with category names, frequencies, or percentages. You can also draw a line from the label to the slice. For example, the following pie chart shows the number of credit cards that are held by survey respondents. The labels show the percentages for each slice. The lines help to associate the labels with their respective slices.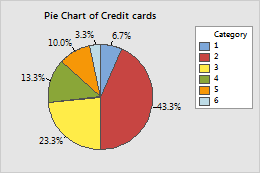 Slice labels and leader lines
On the Slice Labels or Show tab, you can choose from the following label options.
Label Type

You can add any or all of these label types to your pie chart. The category name is the value of the categorical variable that is associated with each slice.

Category name

Frequency

Percent

Show leader lines

To show the leader lines, select

Show leader lines

or

Draw a line from label to slice

, depending on which dialog box you are using. To edit the appearance of the leader lines, double-click a label. On the

Leader Lines

tab, change the type, color, or size of the leader lines.

Not selected (default)

Selected