Use brushing to investigate characteristics of data points of interest, for example:
Identify the rows that contain the outliers.
Determine whether points in a brushing region share other characteristics.
Example of brushing
You create a scatterplot of Yield vs. Input, and notice three points that seem to be outliers. You can brush these points to identify the worksheet rows that correspond to them.
When you are brushing, a pane appears beside the graph. The pane lists the worksheet row numbers of the brushed points and the ID variables, so that you can find them in the worksheet. The ID variables in the example are Yield and Input.
In the worksheet, the rows that correspond to the brushed points are identified by symbols beside the row numbers.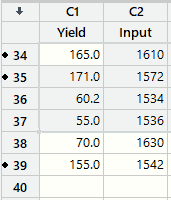 In the worksheet in the illustration, the brushed values in the
Yield
column seem unusually high. To investigate, you can do the following:
Look for data-entry errors and correct them.
Consider other variables that may explain the high

Yield

values.
Recreate your graph excluding (or including) the brushed points, so that you can examine the data you are most interested in.
Subset your worksheet to exclude (or include) brushed points so that you can analyze the corresponding data.