Interquartile range boxes on a boxplot represent the middle 50% of the data. The whiskers extend to the maximum and minimum data points within 1.5 box heights. For example, the following boxplot displays interquartile range boxes that represent the heights for plants grown with three different fertilizers.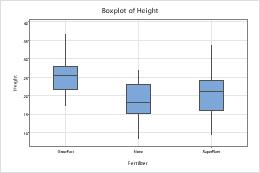 Interquartile range boxes appear by default on boxplots. To edit interquartile range boxes, select and double-click the boxes that you want to edit. For more information on selecting boxes, go to Select groups and single items on a graph.
Edit the appearance of the boxes

On the

Attributes

tab, you can edit the fill type, fill color, line type, and line color of the selected boxes.

Tip

To change the default settings and attributes for graph elements, choose File > Options > Graphics.

Edit the box endpoints

On the

Options

tab, under

Box Endpoints

, select one of the following:

Quartiles

: (default) Display the box bottom at the 1st quartile (25th percentile) and box top at the 3rd quartile (75th percentile).

Hinges

: Like quartiles, hinges measure the middle half of the data, but they are calculated differently. In practice, the hinges may be a bit closer to the median than the quartiles are, but in most cases this difference is not noticeable unless the data set is very small.

Percentile

: Use percentiles to define the bottom and top of the box. Enter a percentile between 0 and 50.

Remove the whiskers

On the

Options

tab, under

Whiskers

, select

None

.

Edit the box widths

On the

Options

tab, select

Box width proportional to sample size

to make the width of each box proportional to the square root of the sample size.
Note
If you are using a boxplot with groups, you can also assign attributes to the interquartile range boxes based on the groups in your data. For more information, go to Display groups on graphs.