Multi-modal data have more than one peak. (A peak represents the mode of a set of data.) Multi-modal data usually occur when the data are collected from more than one process or condition, such as at more than one temperature.
For example, these dotplots are graphs of the same data. The simple dotplot has two peaks, but it is not clear what the peaks mean. The dotplot with groups shows that the peaks correspond to two groups.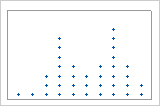 If you have additional information that allows you to classify the observations into groups, you can create a group variable with this information. Then, you can create the graph with groups to determine whether the group variable accounts for the peaks in the data.
Tip
To add a group variable to an existing graph, double-click a data representation in the graph and then click the Groups tab.