The fitted line plot displays the response and predictor data. The plot includes the regression line, which represents the regression equation. You can also choose to display the confidence interval for the fitted values.
Interpretation
Use the fitted line plot to examine the relationship between the response variable and the predictor variable.
In these results, the equation is written as the probability of a success. The response value of 1 on the y-axis represents a success. The plot shows that the probability of a success decreases as the temperature increases. When the temperatures in the data are near 50, the slope of the line is not very steep, which indicates that the probability decreases slowly as temperature increases. The line is steeper in the middle portion of the temperature data, which indicates that a change in temperature of 1 degree has a larger effect in this range. When the probability of a success approaches zero at the high end of the temperature range, the line flattens again.
If the model fits the data well, then high predicted probabilities show where the event is common. When the temperatures in the data are near 50, the response value of 1 is most common. As the temperature increases, the response value of zero becomes more common.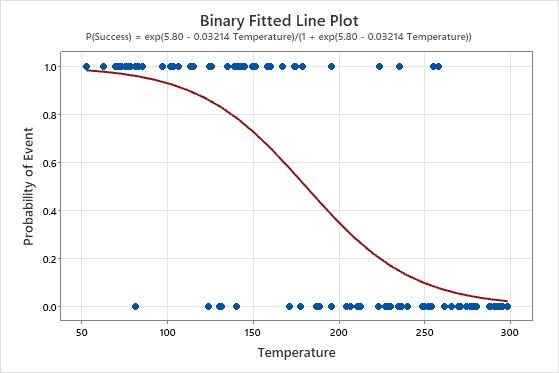 If you add confidence intervals to the plot, you can use the intervals to assess how precise the estimates of the fitted values are. In the first plot below, the lines for the confidence interval are approximately the same width as the predictor increases. In the second plot, the confidence interval gets wider as the value of the predictor increases. The wide interval is partly due to the small amount of data when the temperature is high.