Use Ppk to evaluate the overall capability of your process based on both the process location and the process spread. Overall capability indicates the actual performance of your process that your customer experiences over time.
Generally, higher Ppk values indicate a more capable process. Lower Ppk values indicate that your process may need improvement.
Compare Ppk to a benchmark value that represents the minimum value that is acceptable for your process. Many industries use a benchmark value of 1.33. If Ppk is lower than your benchmark, consider ways to improve your process.

Compare Pp and Ppk. If Pp and Ppk are approximately equal, then the process is centered between the specification limits. If Pp and Ppk differ, then the process is not centered.

Compare Ppk and Cpk. When a process is in statistical control, Ppk and Cpk are approximately equal. The difference between Ppk and Cpk represents the improvement in process capability that you could expect if shifts and drifts in the process were eliminated.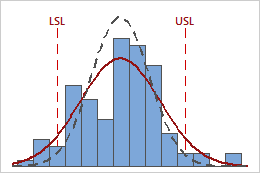 Important
The Cpk and Ppk indices measure the capability of the process in relation only to the specification limit that is closest to the process mean. Therefore, these indices represent only one side of the process curve, and do not measure how the process performs on the other side of the process curve. If your process produces nonconforming items that fall outside both the lower and upper specification limits, use additional capability measures in the output to more fully assess process performance. For more information on other capability measures, go to All statistics and graphs.