A probably plot displays each data point versus the percentage of values in the sample that are less than or equal to that data point.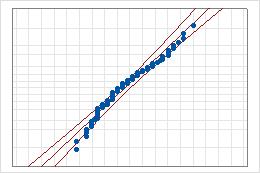 A probability plot includes the following components:
Middle line

The expected percentile from the distribution based on maximum likelihood parameter estimates.

Confidence bound lines

The left curved line indicates the lower bounds of the confidence intervals for the percentiles. The right curved line indicates the upper bounds of the confidence intervals for the percentiles.

Anderson-Darling test statistic and p-value

The results of a test to determine whether your data follow the distribution.
Interpretation
Use the probability plots to assess the fit of the nonnormal distribution for each variable.
If the distribution is a good fit for the data, the points should form an approximately straight line. Departures from this straight line indicate that the fit is unacceptable. If the p-value is greater than 0.05, you can assume that the data follow the nonnormal distribution used in the analysis.
If the p-value is less than 0.05, your data do not follow the selected distribution and the capability analysis results may not be accurate. Use

Individual Distribution Identification

to determine which nonnormal distribution or data transformation is more effective for your data.
Note
If the distributions differ for multiple variables, you should perform a separate capability analysis for each variable.