Examine the following elements to learn more about the center of your sample data.
Confidence interval

The confidence interval is a range of values that is likely to include the population mean.

Sample mean

The sample mean is represented by a symbol.
Hold the pointer over the interval to view a tooltip that displays the estimated mean, the confidence interval, and the sample size. For example, this interval plot represents the heights of students. The tooltip indicates that you can be 95% confident that the mean of the heights is between 67.9591 and 69.4914.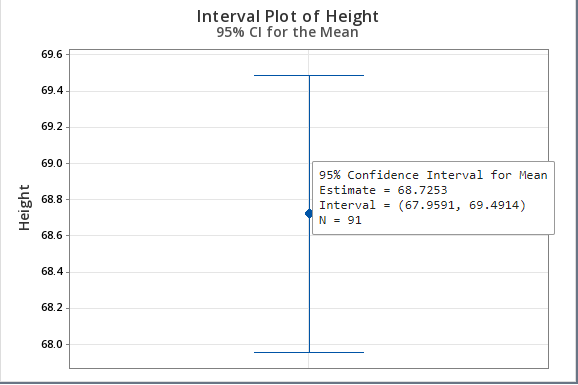 Investigate confidence intervals that are surprising or unexpected. For example, if a confidence interval for the mean of a sample of customer wait times is substantially different from the confidence intervals of previous samples, you should try to determine the cause of the difference.