Look for differences in the heights of the bars. The bars show the values for the groups. Refer to the scale range of the y-axis to determine the actual differences between groups.
For example, this bar chart compares the counts of different types of paint flaws. Peels are the most common, followed by Scratches, Smudges, and Other. The counts range from about 6 to 15.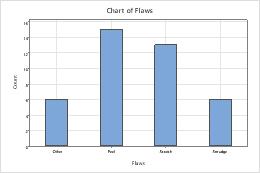 Tip
In Minitab, hold the pointer over a bar to view a tooltip that shows the value of the bar.