Use your process knowledge or area expertise to determine whether outliers or sudden shifts indicate errors or an actual change due to a cause.
Outliers
Look for unusual observations, also called outliers. Try to identify the cause of any outliers and correct any data-entry errors or measurement errors. Consider removing data values that are associated with abnormal, one-time events, which are also called special causes.
The following area graph of sales volume shows an outlier for Region 3 that was caused by a data-entry error. A sales manager accidentally entered the value 945,000 in the worksheet instead of 445,000 for monthly sales.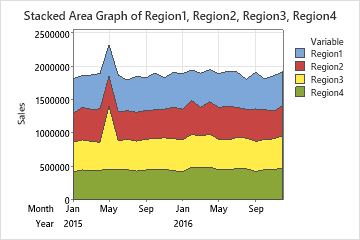 Sudden shifts
Look for sudden shifts in the series or sudden changes to trends. Try to identify the cause of such changes.
The following area graph of production costs shows a sudden shift in the costs at Facility 2 at the beginning of 2015. You should investigate the reason for the shift.