Sensitivity analysis allows you to assess the results and identify the inputs whose variation have the most impact on your key outputs. Use this method along with your process knowledge to identify the inputs that can be adjusted to make improvements. Engage displays a graph that shows the effect of changing the standard deviation of each input on the percent of output that is out of spec.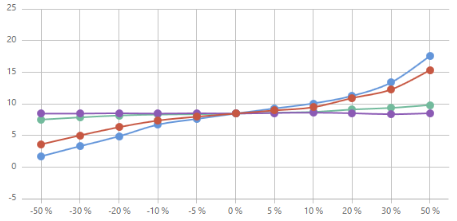 Look at the graph for these patterns:
To increase the capability by reducing the variation in Y, look for inputs with sloped lines. This pattern indicates that a change in the variation in the input will likely reduce the variation in the output, resulting in an increase in capability. The graph shows that changes to the inputs indicated with red and blue lines are candidates for improvement efforts. For example, in construction project scenario introduced in Add a Monte Carlo simulation, you can reduce the percent of projects that run longer than 30 days if you are able decrease the variability of these inputs.
To identify inputs whose variation has little or no effect on Y, look for inputs with a flat line. For inputs with a flat line, you can ease the requirements (tolerances) without adversely affecting the performance, which will save you time and money. The graph shows that changes in the variation of the purple and green effects have little influence on the percent of projects that exceed 30 days. Therefore, you may want to evaluate the impact of relaxing the requirements on your business.
Sensitivity analysis often follows parameter optimization, which focuses on finding optimal settings for the inputs. For more information, go to Perform a parameter optimization.